In a previous post, I discussed the legacy of Ronald Reagan.  For 40 years, our country has operated under his shadow, and a big part of that legacy is a general anti-government sentiment.  This is especially directed toward the federal government, although it actually poisons our political discourse at every level.
When talking about federal employees, conservative ideologues often use the term "bureaucrat."  It isn't a compliment.  Of course, it is never applied to an employees of a private business, no matter how large or centralized.
Some years ago, I worked as a department manager in a supermarket.  It was part of a large regional chain.  As with any large corporation, there is an enormous, complex chain of command, and I often found that high-level management was out of touch with the needs of my particular store.  The shelves were full of products that sold very poorly in that particular area.  In perishable departments much of this quickly went out of date and into the garbage.  Instead of letting department managers, who knew what products moved quickly and what products didn't, make strategic decisions about placement, poorly-informed directives from on high were usually imposed.  Procedures were often changed, then changed back again, without any feedback from low-level managers.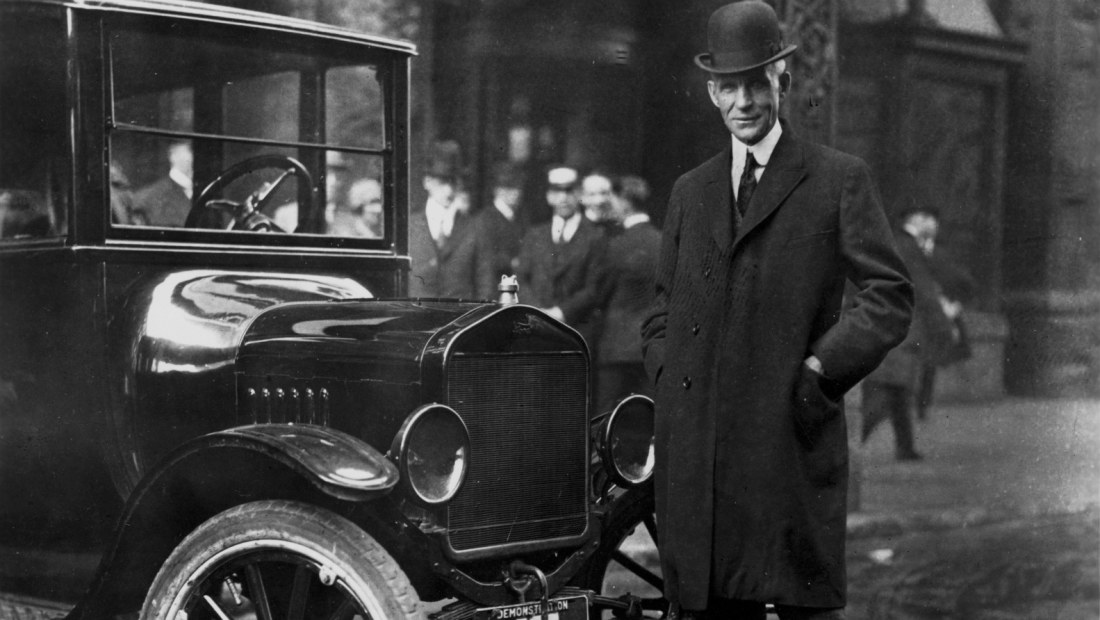 This is exactly the kind of waste and inefficiency that conservatives usually point to when they criticize government-run operations.  They seem to think that it magically disappears when the profit motive is there.  But in fact, this kind of inefficiency is built into any large centralized system, when higher level managers aren't driven by evidence and reason.  The profit motive has very little to do with it.
Henry Ford was a mechanical genius.  When he set out to build cars, he understood something that few car makers did.  The way to make big profits is not to make a few luxury cars for the wealthy, but to make affordable, reliable cars for the masses.  He helped usher in 20th century middle class America.  But Ford was also a control freak.  He not only gave his employees incentives to do well, he tried to run their lives, even their private lives.  And he despised the very consumeristic mentality that he helped build in America.
When his model T had been on the road for 20 years, and other companies were offering a variety of new and improved models for every type of consumer, it became obvious to his subordinates that a new model was needed.  But not to Ford.  He loved the model T.  And he almost ruined his own company clinging to it for years.  The profit motive was alive and well in Ford's mind.  But that wasn't gonna save Ford Motor Company.  A commitment to EVIDENCE and REASON saved the company.
My sister has worked for the federal government for more than 20 years.  She's a postal carrier.  She sorts mail, delivers mail, memorizes thousands of bits of information, uses her experience to successfully interpret ambiguously addressed envelopes and packages.  Is she a "bureaucrat"?  Like any large, centralized system, the U.S. Postal Service has its inefficiencies.  Nevertheless, it is a business, a business that has existed for well over 200 years.  There is a tremendous amount of evidence- and reason-based management going on at every level.
The same kind of evidence-based management goes on in every department of the federal government.  The Department of Agriculture manages the country's national forests.  The Department of Interior manages the national parks and national wildlife refuges.  The Department of State manages the country's diplomats and protects American citizens abroad.  The Social Security Administration – well, you know what they do.  The Department of Commerce includes the National Weather Service.  The Department of Transportation manages the country's air traffic control system.
At this moment, hundreds if not thousands of airplanes are taking off and landing at America's commercial airports.  The reason crashes make national news is that they're incredibly rare.  It's not hard to imagine what would happen if the country's air traffic controllers didn't effectively manage the constant movement of airplanes.  Are these people "bureaucrats"?  Would we all be better off handing air traffic control over to private corporations, which constantly look for ways to cut costs?
The notion that a private corporation is inherently superior to a government agency, that the profit motive will invariably create more efficiency than a commitment to public service, is nothing more than attachment to an ideology.  If it were true, then private mercenary companies would do a better job than the U.S. military.  All of the anti-government ideology comes to a screeching halt when it comes to the Department of Defense, an enormous, centralized, federal "bureaucracy."  Of course, no one calls it that.  The military is the one branch of the federal government that gets nothing but praise from conservatives, and seemingly infinite amounts of money.  No one questions the efficiency of the military – in fact it is almost considered the definition of efficiency, even though, like any large, centralized system, it contains its own inevitable inefficiencies.
Any large, centralized system can be successful if it PAYS ATTENTION to realities.  In other words, if it is evidence- and reason-based.  To the extent that it doesn't, it will be inefficient and ineffective.  This applies to private corporations and it applies to government agencies.  In either case, the people who depend on evidence and reason to make decisions and manage the system are not "bureaucrats."
In time, the shadow of Reagan will lift.  The era of anti-government ideology will fade.  Reagan gave the lazy and the cynical a convenient excuse for being lazy and cynical – that you shouldn't participate in politics, government is the problem, not the solution.  But WE, the people, are the government and always have been.  We have always had the power.  We simply choose to wield it or not.