Recently I was reading an article about the "People's Crusade" of the 11th century. Spurred on by charismatic religious figures and unusual astronomical happenings, a large number of German Christians set off on a campaign of mass murder, mostly directed against Jews in Europe. Within less than a year most of the crusaders were themselves massacred by an army of Turks. Naively, one might expect that such a result would put a stop to this kind of nonsense, but in fact this was just the first of a long list of blood baths often referred to as "crusades" between the 11th and 13th centuries. One of the most infamous examples was the massacre of Christian gnostics in the city of Beziers in France. The crusaders decided that it was too much trouble to sort the Catholics from the heretics in the city, and simply massacred everyone. The leader of the crusade, Arnaud Amalric, the Abbot of Citeaux, declared, "Kill them all for the Lord knoweth them that are His."
Mass murder reached a crescendo in the 20th century, with multiple genocides and facilities specifically designed and built for the purpose of murdering large numbers of people. Much of this was centered around ideology rather than traditional religion or ethnicity. Most of the 2 million or so Cambodians murdered by the ultra-communist Khmer Rouge in the 1970's were of Khmer ethnicity themselves. The ruthlessness and scale of such violence illustrates how vulnerable human societies are to almost any variety of usandthemism. It doesn't have to be about centuries-old ethnicities or religions. It can be about anything. Dialect, skin color, hair style, dress, occupation, ideology, religion, ethnicity. Anything at all, that can be used to distinguish "us" from "them."
When you look at the repeated examples of mass murder and genocide across the long arc of history, it's easy to fall into a funk of hopelessness. None of it is surprising. Human beings are not blank slates. Over the course of history, societies that were highly cohesive, in which people submitted to authoritarianism, conquered or destroyed those that weren't. Achieving solidarity with authoritarianism and supremacist thinking has been "successful," in that sense. But there is one characteristic that divides human beings, and which has been the focus of a great deal of oppression, but which gives me great hope for the human species. Gender.
In many different parts of the world, the subjugation of women was the norm for centuries. In America there are still women alive today who were born at a time when most women couldn't vote. In most places and times, women have been treated as possessions by men. There is still plenty of discrimination and sexism today. Many men still consider women to be "them," not "us." Yet in many parts of the world, women have been able to push back against oppression. Misogyny has lost a great deal of its legitimacy. 26 countries currently have female heads of state. Germany has had a female Chancellor for 26 years. She is arguably the most powerful politician in Europe. 46% of Finland's parliament consists of women. Of course, women in many countries still face oppression. But once women throw off their shackles, it is HIGHLY unlikely that they can be forced back into subjugation.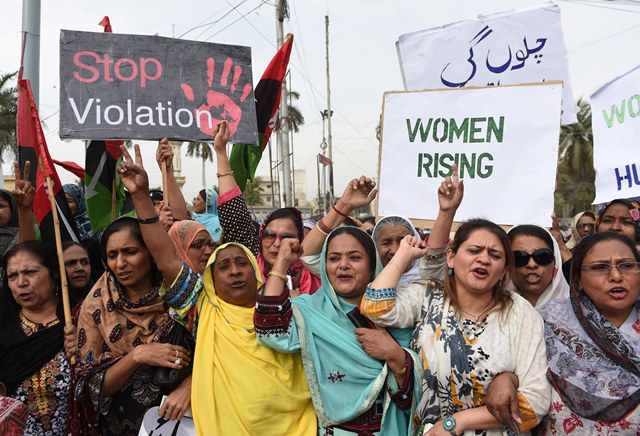 When women refuse to be trodden on, what recourse do men have? Women are the one "them" that men can't live without. They can try to make examples of particular women, but fear only gives you so much control. They can try to brainwash women with culture, religion, and ideology, but in the end the voices of freedom always seem to seep in and women demand their share of power and respect. Once the floodgates open, it is next impossible to close them. Ever seen a society filled with educated, liberated women that succeeded in forcing them back into submission? No, me neither.
America lags behind many countries in female empowerment. This is not because American women are poorly educated. In fact, there are more American women enrolled in secondary and tertiary education than men. Where America lags is in political empowerment for women. On this it ranks 37th, behind most of Europe as well as 4 Central American countries. Only 27% of Congress consists of women, and of course America has never had a female president. But it is highly unlikely that the country will be able to sustain its strong gender inequality when it comes to political power. Women will continue to gain influence, and as they do the forces of usandthemism will yield.
In their book Taking America Back for God: Christian Nationalism in the United States, sociologists Andrew Whitehead and Samuel Perry describe a continuum of belief in America concerning Christian Nationalism. They cite a 2017 Baylor Religion Survey which asked respondents: "How important is it to do the following if one wishes to be a good person?" Striking differences were found between those who advocated Christian Nationalism versus those who merely practiced their religion assiduously. For example, taking care of the sick and needy was positively correlated with strong religious practice. But it had no relationship to Christian Nationalism. Practicing one's religion assiduously was positively correlated with actively seeking social and economic justice. But seeking social and economic justice was NEGATIVELY correlated with tendencies toward Christian Nationalism. Large numbers of Christian Nationalists are not even particularly religious. As I have said previously, defense of white Protestant culture is not exclusively or even primarily about religious doctrine. It is about culture. It is about group status. It is about power.
Whitehead and Perry categorized about 20% of Americans as "ambassadors" – the most hardcore adherents to Christian Nationalism. These folks tend to adhere to xenophobia, white supremacy, patriarchy, and homophobia. Only 17% had college degrees. A whopping 60% lived in small towns or rural areas. And 50% lived in the South. At the other extreme were "rejectors" – those who soundly rejected the beliefs associated with Christian Nationalism, who also constitute about 20% of the population. 51% had college degrees. About a third had advanced degrees. 61% lived in cities or suburbs. Only 27% lived in the South.
Christian Nationalism is slowly fading. The authors note that the percentage of Americans they categorize as "ambassadors" declined from 24% in 2007 to 20% in 2017. "Rejectors," meanwhile, increased from 19% to 22%. The average age of "ambassadors" is 54. "Rejectors" average 43. Christian Nationalism is strongly associated with patriarchy and homophobia. But even among Christian Nationalists, patriarchal beliefs are declining. In 2007, 56% of "ambassadors" agreed with this statement: "Men are better suited emotionally for politics than women." (Only 6% of "rejectors" agreed.) In 2017, only 30% of "ambassadors" agreed with this. In 2007, 63% of "ambassadors" agreed with this statement: "A preschool child will suffer if his or her mother works." In 2017, only 35% of "ambassadors" agreed with this. Support for same-sex marriage among ambassadors increased from only 5% in 2007 to 25% in 2017.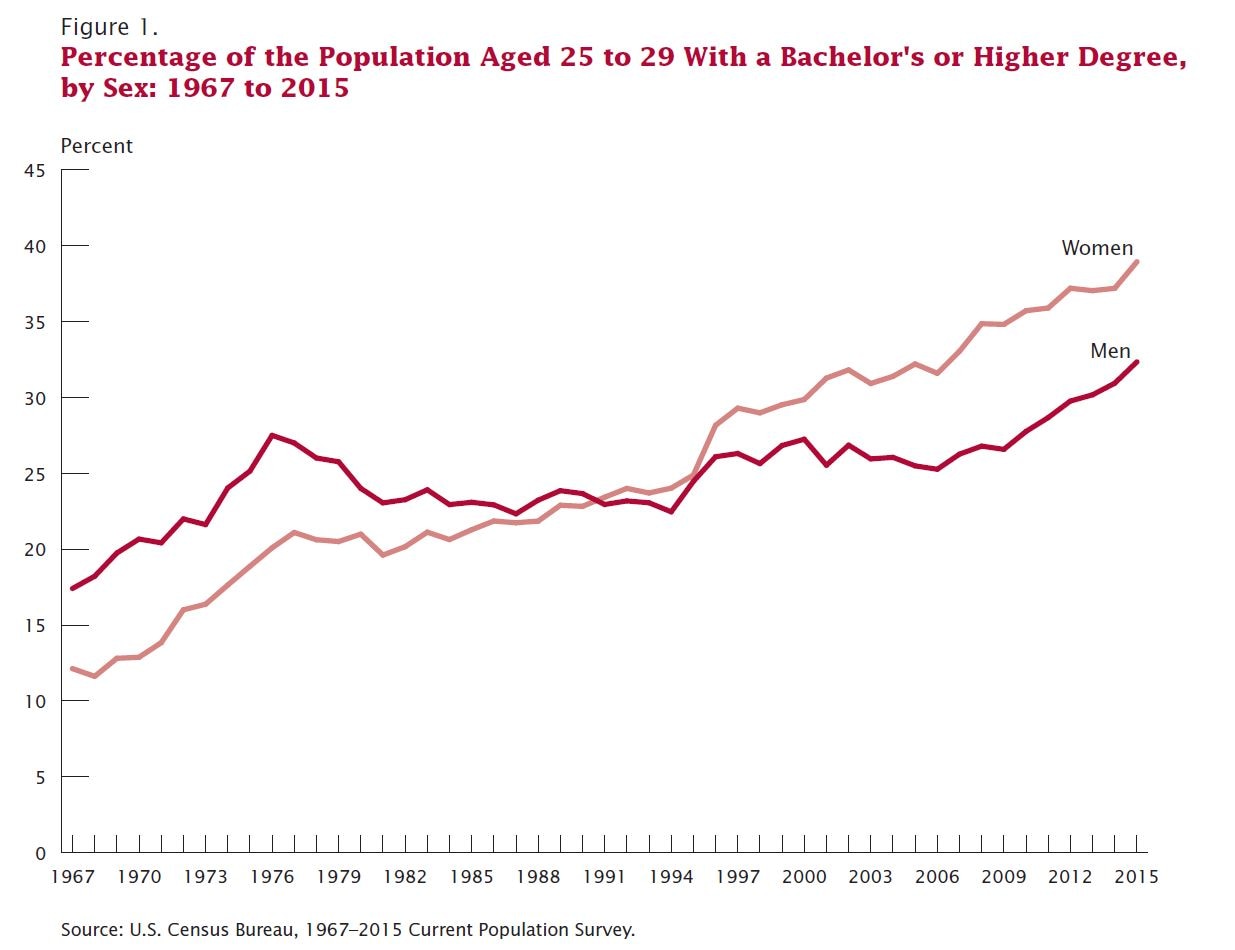 The trends are unmistakable. American women are increasingly educated. About 4 out of 10 young American women have at least a Bachelor's degree, and this percentage is likely to increase over time. Highly educated women simply do not support patriarchy. The industries that support rural America – resource extraction particularly – are increasingly automated. Rural America is slowly hollowing out. Christian Nationalists are now having to resort to aggressive voter suppression in order to maintain minority rule. But it won't succeed. At some point the dam will break.